As I was reading my Bible this morning, 1 Peter 5:7 really jumped out at me. This is a verse I have read many times, and it is a scripture that is often quoted:
"Cast all your anxiety on him because he cares for you."
This has always been a reassuring verse, one I've kept near and dear to my heart. But today what struck me is that is says cast ALL your anxiety on him. Not just some, but ALL. Not just the big things you worry about, but the little things too; and especially the things that you really want to hold on to. Some things are just so tough to turn over to God! However difficult, we must turn over ALL our anxiety, fears, worries, and concerns over to him. That financial burden you don't know how you will manage. That relationship that, despite great effort, is still not working out. That health problem that seems impossible to heal from. That child that still heading down a bad path. That addiction you can't control. Whatever your anxieties are, turn them ALL over to God. Even the little daily things like coordinating who is going to get the kids on time to dance or soccer practice? Did the electric bill get paid (thank goodness for auto pay nowadays! lol)? Is that age spot on my face seriously getting bigger by the day?!? Do I REALLY want to eat that doughnut in the break room that's been taunting me all day?!?!?!? (The answer to that question, however, is ALWAYS yes! lol j/k :) How lucky we are to have the luxury of turning all our stress over to him!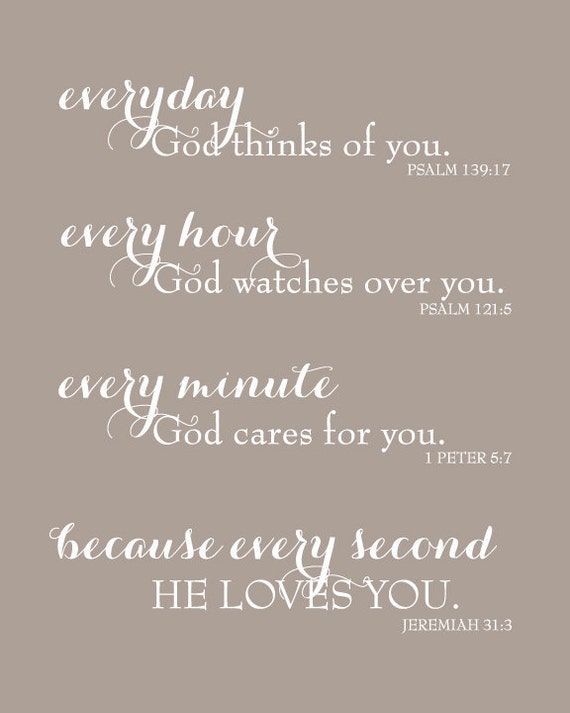 The other thing that stood out to me is that the verse says to cast all our anxiety on him BECAUSE HE CARES FOR YOU. He loves YOU! He loves you so much that he is willing to take all those things that stress you out and leave you depleted onto himself. Even despite all our shortcomings and human failures, he wants to help you relax, enjoy life, and be joyful in him. There is no greater love than that! When we turn everything over to God, we can focus on our relationship with him, our relationships with others, and spreading his light throughout the world. Think of how much better you focus when you aren't feeling stressed out, versus when you are super anxious. So don't wait, turn it ALL over today in prayer - because you are LOVED!!!
Thank you for reading, God bless! <3